I'm still in the boot.
Two more weeks, which is discouraging, but should have been expected.  Every article I've read about broken ankles has said 6 weeks, and it never occurred to me that 4 weeks might just be to check on progress.  So I was incredibly disappointed, bordering on tears.  But everything's lined up nice and straight and starting to fill in as it should.  Another two weeks, and then I get moved into an ankle brace for god knows how long.  As long as I can start driving again, I'll be happy.  I actually kind of like riding to work with co-workers, but I want to be able to run errands, dammit!  I'm working on sucking it up, though, aside from a lot of whining, and am looking to get on with things.
To that end, I'm looking ahead to what's next.  I won't be able to run for months even once I'm out of the boot (sob!), but it looks like biking will be good right off the bat.  Since initially I got into running as a gateway to cycling (who knew I'd end up loving running!), it seems like this may be the universe's way of telling me to get on with it.
I did get a few trips in this summer, and even managed a hilly 10 miles once.  But my bike is heavy and sluggish for that kind of riding.  She's good for rough trails or grocery getting, but dragging her uphill is a chore, even in the lowest gear, and I can't get her going very fast even ont he flats.  As the ennui of my ankle settled in, I went looking on Craigslist for a more suitable road bike.
I found Galadriel.
She's a 1984 Lotus Challenger mixte.  But you wouldn't know to look at her that she's over 30 years old.  She looks like she just came off the line last year.  The paint is almost pristine, the welds perfect, and the guy selling her had replaced all the things that lack of use would degrade, like the tires and cables and bar wrap.  He'd even added a rear rack.  I did a lot of research on her, and even though he was asking a lot for her, it was a fair price.  She's a collector's bike, where even ones in crap condition go for $150-200, and she's in gorgeous condition.  I would spend twice as much to get a similar bike new.  But I wasn't in a hurry to get a bike.  This was only week 2 of the boot, after all.  But she kept eating at me.  I started researching her, and asked other, more experienced riders for their input.  Hell, I even dreamed about her, which is when she told me her name.  So I figured I needed to at least make an attempt at her.  I got in touch with the seller, and he responded right away agreeing to set up a test ride that weekend.  Nikki was great and came up to drive me over, even though she hadn't driven anything in almost a year, let alone my big old van.  I took off the boot, put on a sneaker, and off we went.
She looked even better in person.  Then I got on her.  She was fast.  And smooth.  She shifted great, despite me having no clue how to use her lever shifters.  There was a fairly steep (for me) hill right next to the house, which I was able to fly up, despite babying my foot.  And she fit me perfectly.
I needed this bike.
I tried to talk him down, but he knew what he had, and I knew what he had, so I told him I'd have to think about it until pay day.  I was worried he'd sell it in the meantime, but if he did, well, that just meant I wasn't meant to have her.
Monday Nikki sent me half the cost with a not.  "Buy the bike."  I looked at the ad again.  And I got in touch with him.  The problem, of course, was that I couldn't drive out to get her.  Fortunately he was willing to drop her off.  She was just as beautiful in my yard as she'd been in his.  I was not going to lock her on my front porch with the other bikes, though, so initially she was in the kitchen and now is living in my dining room where I can pet her whenever I want.
Now, there may be some adjustments made.  As I said, she has lever shifters, which I have never used, and they're on the down tube instead of on the bars, so it takes a little more finesse to shift.  And she has drop handlebars, which again, never used.  So she's going to take a little getting used to.  I am going to get professionally fit to her so everything's the way it should be.  I think the handlebars need to be a little higher, as I feel like I'm tipping over if I hold the brakes.  Once that's all set, I'll give it three months to get used to.  If at that point it's just not working, I'll change out the bars for butterfly bars which will let me ride more upright and get thumb shifters installed on the bars.  I want to at least give the current set-up a try, though.
Not getting to start riding her this week was especially disappointing.  I'm making it up to myself by shopping for gear for her.  I've ordered a handlebar bag which has a map pocket and cell phone display pocket, and I got a repair kit with all the basics for on the road repairs.  I want a trunk bag and panniers, but those will keep, and as the season moves on, I'll need decent lights.  Sophie, my old bike, will probably be my winter bike, as she can handle snowy roads better, so I won't need heavier gear for Galadriel.  But what I really want for the new bike are these panniers.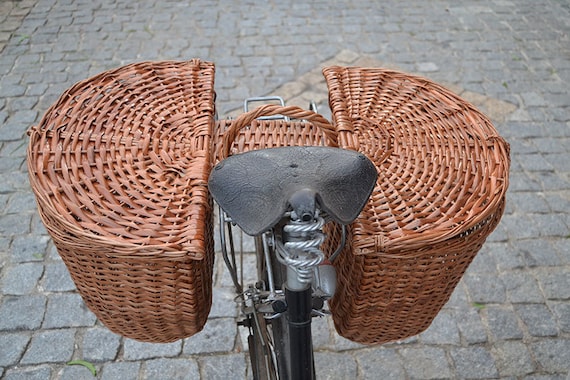 The vendor on Etsy who sells them has taken them down, but I'm hoping they'll go back up eventually.  They're expensive, though, $150, but they hold a lot of stuff, and don't they just look like something an elf queen should have?  And they'd be easy to move between the two bikes as needed, so they'd be flexible.  So I'll watch to see if they go back up.  I'm not allowed to get them anyway until I can complete the long park trip I have planned.  It's 30 miles round trip, and is the same route the local bike club rides, so once I can do that, hopefully I can start riding with them.  Meanwhile I've created an Amazon wishlist for all the other goodies I want.  I may make another one to build fantasy kit for bike camping.  There's so much stuff to get, I could go a little nuts!
And I'm not the only cyclist in the house!  Xander has been amazing about riding his bike to school.  He can't wait to get out the door in the morning, literally.  I've had to keep him in when he's made a break for it a 6:15. As it's staying dark later and later in the morning, we've been adapting.  He know has a quick release light for his handlebars, and I ordered another set so he'd have them front and back.  I also got him a pair of cycling gloves with skeleton hands on the back to keep him warm now that it's finally cooled off.  There are a couple more goodies I want to get him, like spoke lights and a reflective harness, but there's time for that.  He said he wants to keep doing it even after I start driving again, but we'll see how long that holds once the snow flies.  I may drag him out with me on a couple of long weekend rides once I get moving again.  Who knows, maybe I'll have a riding buddy!  Hero's getting more attached to her bike, too, but she doesn't want to make it her sport of choice, because then it's work instead of fun.  This is a mindset I hear from a lot of my family, and it makes me a little crazy.  I mean, shouldn't your work BE fun?  But she has to do what works for her, and as long as she gets some fitness in, I'm happy.  Of course, she still has to get through her push up test in gym, but that's a whole other workout goal!
So.  Two more weeks.  (Again.)